Hey fellow business owners! James Webb here, Director of Link Strategies Group. I have been getting this question so often lately I thought I'd write up a quick article to address it.
Xero is a relatively new kid on the block. However, it has been one of the first into what we call the "Cloud Accounting" scene. This basically means that all it's functionality and use is internet based. That means no need for downloading files, installing, transferring documents, ect. It's all in a web browser, just a quick log in away.
Ok great, but does this actually help small business in reality? The answer is, from our experience, a strong yes. There is a very small percentage of clients in small business who I have advised against using Xero.
Essentially the main benefits of Xero's accounting package are the following:
1.
Really easy to use, and great invoices features.

Xero helps you take control of your invoices from anywhere. Let's say you're in the construction industry, and your business is Painting. You finish up your painting job at the customers house, and you are having a chat about the results. Now is a great time to invoice them! Traditionally, you'd have to go home, sit on your computer and create that invoice! With Xero, you can create that invoice on the spot, from your phone or tablet. The client will be more responsive to this, and more likely to pay on time. Also, managing what you are owed is easy as there is a great sales dashboard. See screenshot below:
2.
Easy Reconciliations and magical bank feeds

OK, traditionally, the role of bookkeeping has required someone going to the business owners place of work or home and sitting at a computer punching in bank statement lines. This is NO LONGER THE CASE! YAY! Bank feeds directly imports bank statement lines directly into Xero on a daily basis. This is one really great feature of the software. This saves much unnecessary labour in data entry. A big win for small business.
3.
Great payroll features

Another top element to Xero is the payroll functionality. You can give your employees payroll access to Xero Me. This let's them enter their own timesheets, which you can then manage from the systems payroll tools. This is one of the easiest payroll systems we've used. It's intuitive and very friendly even to newer users.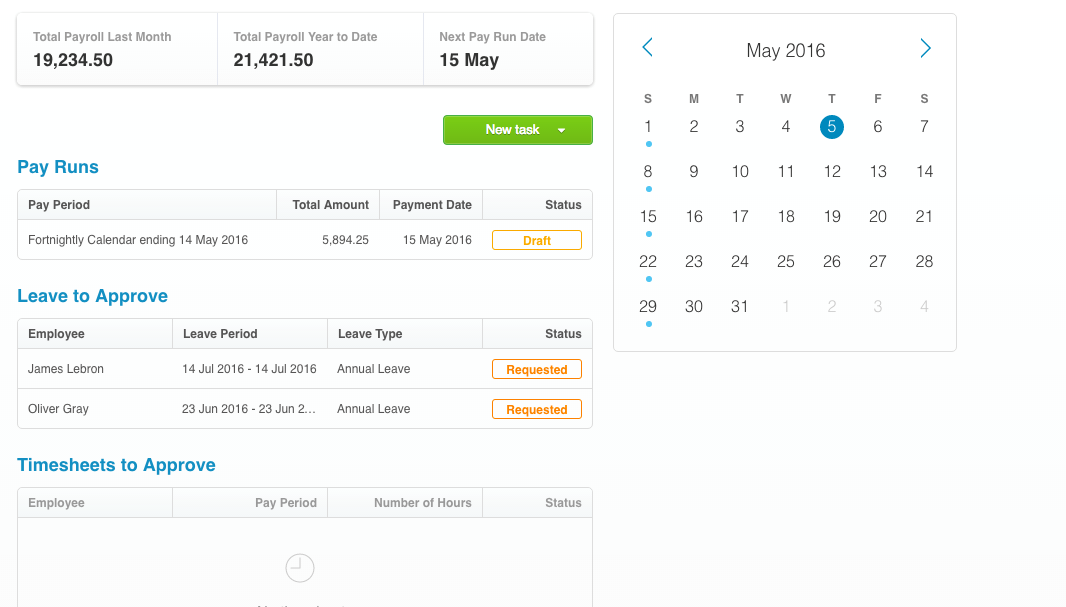 4.
Collaboration with your Accountant and Bookkeeper

Being in the cloud has huge benefits for real time communication with your accountant and bookkeeper. Most of our clients have us completely manage their bookkeeping process for them, so the file is all ready for them to jump in and get great reporting information. Accountants (generally) love Xero (some of the older generations of Accountants show resistance. Personally I think this is just Technophobia). The cloud makes connecting all your financial advisors in the one place pretty easy. It's just a matter of inviting users!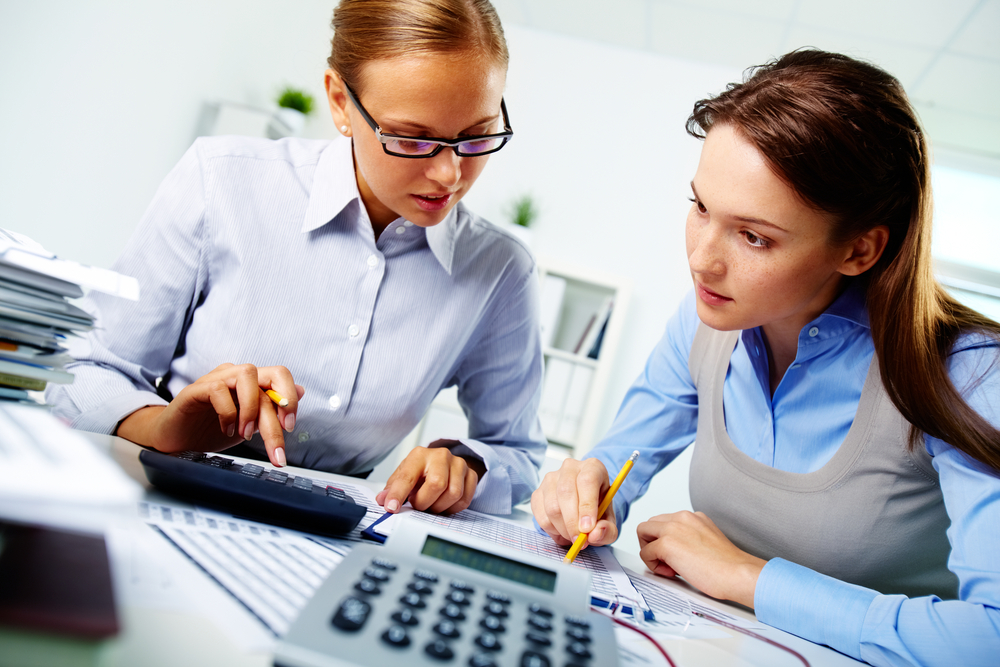 5.
Add on Apps for everything you might need.

OK, so let's say you run a restaurant (you poor thing, you). You'll have a point of sale (POS) right? Well that's good news if you're on Xero, as it's likely this POS system will be able to integrate with Xero. This means the data from this facility will flow into your accounting software, giving you greater control, accuracy of reporting, and business insights, than before without the connection.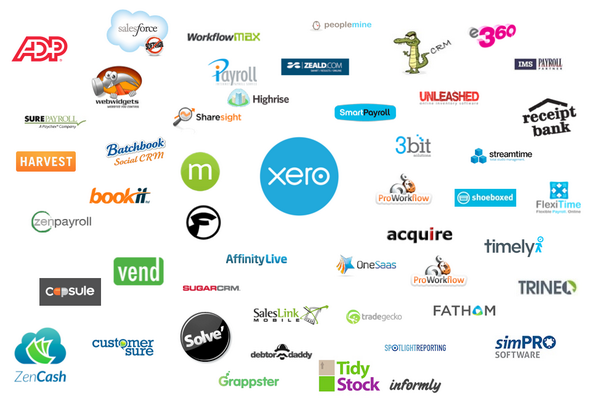 Another great feature may be keeping on top of the physical paperwork. We use a great tool called Receipt Bank. It's an app which let's you take snap shots of all your receipts, which then feed into Xero and can be automatically reconciled and attached to transactions as a digital (and ATO compliant) copy. It's this type of flexibility with apps that make us love Xero for our small business clients.
So you can see some of the great advantages for small business by using Xero. Overall, most of the aversion to the cloud accounting packages we find from small business are a little bit misguided. Common issues clients have brought up with me are:
1. Security. Is the cloud actually safe?
Answer: Yes! The cloud is actually more secure and safe than having your data stored on one computer, and backed up. Imagine your home or office floods, or has a fire. That data could be destroyed. Or a thief could pop in and steal all your glorious accounting data! Oh no! Not possible in the cloud.

What about hackers!? It's all secured by high end, bank grade security. Basically everyone has a bank account which they log into. Well, that's cloud computing too. So don't stress your head about it !
2. This looks too easy, which means it probably won't be able to do what my old accounting package did?
Answer: Cars are easy to drive now, planes are all basically automatic. New and improved does not mean limited. The technology in Xero is constantly evolving which gives it a huge edge on old formats. It's always adding more and more features to make its functionality even more awesome.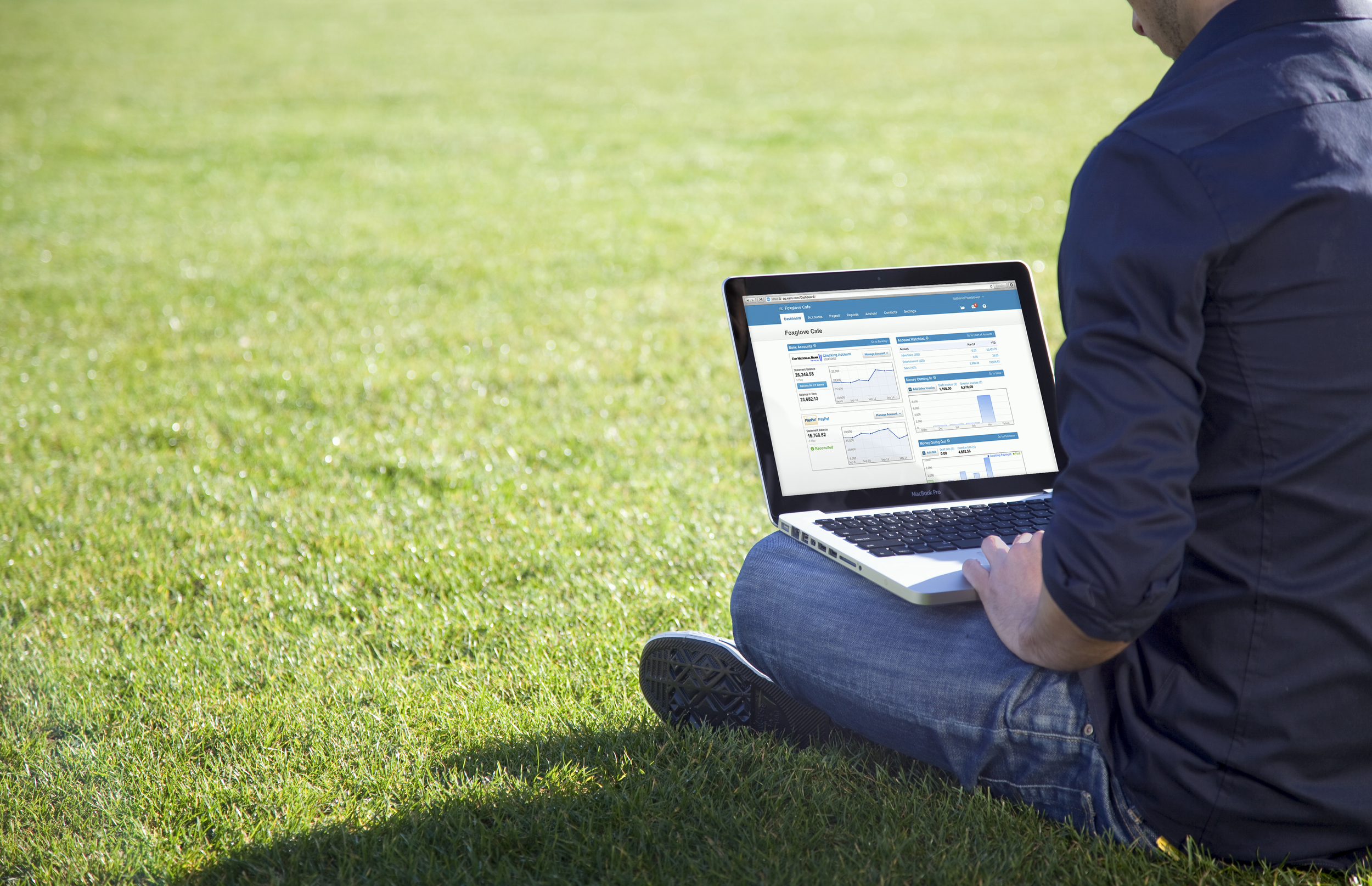 3. I don't like the subscription model
Paying $50 bucks a week vs paying a larger upfront fee. The logic behind the subscription model is as follows:
You pay an ongoing fee for use, and the system will ALWAYS be up to date for you with the latest legislative requirements and backed up by their support and tech team. This is good if you're running a business on the go and need accurate accounting (everyone in business needs this).

To summarise, I'm a fan of Xero. It's allowed our business to provide a complete enterprise grade solution for small to medium business. Happy to chat if you have questions, but remember, whatever choice you make, keep those books up to date!